NuviaLab®: Premium ingredients that are results-driven!
Are you ready to discover a process that brings wellness to your doorstep, unlike any other supplement or body care range?
Geared towards your well-being
In today's modern environment, it can be easy to get lost in the jargon of what so many supplements and body care ranges claim to offer. Some might promise better immunity, others better digestion or improved skin… but how do we know whether these products truly give us the results – and return of investment – of the money that we have spent?
At NuviaLab, our process is simple: we consider only the most premium ingredients for each supplement and skin and hair care product to ensure that you get optimal health benefits, without exposure to any harmful chemicals.
Proudly made in Europe, every product carries that promise of being non-GMO, mostly vegan-friendly and cruelty-free. We follow a scientifically backed approach in our laboratories, ensuring premium quality control processes under the watchful eyes of our expert team.
Even more importantly: our process is focused on harnessing the power of nature: finding and using only the most effective natural ingredients that have proven wellness results. And this is what makes NuviaLab different from others: that dedicated approach to choosing premium quality above anything else.
Our process brings together the healing power of nature, married with a scientific method of excellence that sets us apart from the rest.

Why use NuviaLab's products
Wondering whether you should start using NuviaLab's premium ingredient products? Here are some considerations:
Our supplements can help bridge the gap when your diet does not include the necessary daily nutrients that you need. Often, due to refined or fast-foods, we are subjected to "empty" calories that carry no nutritional value – and when including our vitamins, you can easily maintain a healthy diet.
Supplements formulated for optimal immunity can boost your defences against illness. With the right nutrients, such as those found in our products, your body can better fight off infection and recover faster when exposed to sickness.
Weight loss management can easily be managed with the right supplements. Nature-based solutions, such as our formulas, can help ensure that you follow a healthy weight loss journey, without any restriction or compromise when it comes to getting those vital vitamins and nutrients that your body needs during this time.
Vitamins can play an important role in mental well-being too. Several nutrients are known for assisting the body and mind to achieve a state of calm, which is vital for not just reducing stress during the day, but also for being able to more easily rest at night and recharge for the challenges that lie ahead the next day.
Our hair and skin range is designed using only the safest, premium ingredients. Many beauty care products follow the easy route of using ingredients that carry either no value or that could cause irritation. Our formulas have been designed to be non-irritating, safe for most skin types and to provide care without the risk of exposure to harmful chemicals.
Plus, with the added support of our trusted logistic partners and customer support, you truly have a 360 service with every purchase!

Our goal: giving you peak health and wellness benefits
Every aspect of our process to bring only the best ingredients to our customers is centred on the demands of our modern world. Our goal is to not only supplement healthy diets and lifestyles, but to enhance every aspect of care, from nutrition to skin and beauty.
We are passionate about inspiring our customers to:
Enjoy vitality
Exercise better
Maintain better health and wellness
Manage their weight with the assistance of healthy ingredients
Have access to healthier, more effective skin and hair care
Rest assured: with our trusted, proven premium ingredients, it will be easy to achieve these goals – and so much more!

A process inspired to help you achieve mental and physical health
At NuviaLab, we have built our reputation on the following pillars:
Every product in our range of supplements and care products includes only the highest quality, premium ingredients, handpicked not only for the results that they will deliver, but also for their non-harming qualities.
Our exclusive, signature formulas are tested meticulously and guaranteed to be safe for use.
When it comes to our health supplements, we provide clear instructions on correct dosages and how to use each item efficiently.
We manage expectations by providing clear information on the results that you can expect when using our products, allowing you to make informed choices centred on your health and wellness goals.
None of our products contain toxic ingredients and we have strict quality controls in place to give you peace of mind that every product is safe to use.
Every part of our process provides traceability of our ingredients, underpinned by our quality guarantee.
We are dedicated to providing our customers with pocket-friendly products that are easily attainable.

Why provide transparency and traceability?
Conscious consumers today know the importance of knowing where the ingredients in the products that they consume or use for body and skincare come from.
At NuviaLab, we are passionate about providing this information with every product: not only do we provide transparency on our packaging as well as our website information sheets, but we are also always available to answer any questions or concerns that our consumers might have.
Therefore, you are guaranteed with every product to have full information available to give you the assurance needed that what you are about to buy, will only provide premium results.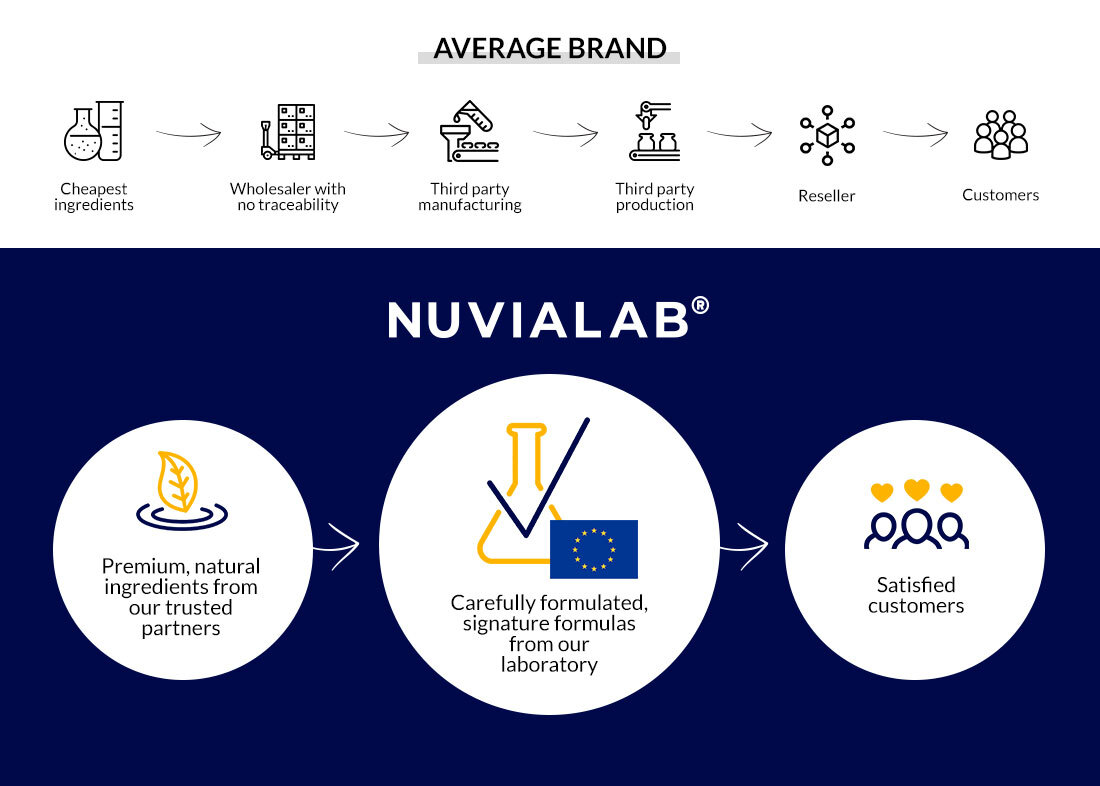 Excluding harmful additives and chemicals, without compromise
Natural ingredients are at the core of every product formula that we develop, and we are passionate about never allowing any harmful substances in our supplements and care products.
We know that empty, dangerous ingredients should never be included in any product and will never add them for the sake of convenience.
Therefore, our customers always have the assurance that our ranges only include natural, safe and tested ingredients that are safe for consumption and body care use – all guaranteed through our process of extensive testing and putting that final stamp of quality on every item.
Rest assured, we ensure as far as possible that our products are free of allergens, do not contain GMOs, gluten or chemicals, and that our body care products are free of sulphates and parabens.

Four ranges, all carrying our promise of premium ingredients
We know that when it comes to a world almost overflowing with product offerings in the health and wellness arena, making the choice of which products to choose can be daunting.
Luckily, with NuviaLab, you have that unwavering promise of quality in every range that we offer:
Our Energy & Exercise range includes products that are in line with the requirements of active individuals to get results through products with safe, natural ingredients that provide results without any negative consequences. Each product provides full transparency – you always know what is inside!
Our Hair & Skin range offers full disclosure on which ingredients are used and for which individuals each product is suited for.
Our Weight Management range offers support for every journey, whether you want to follow an effective Keto program, want to naturally support fat reduction, or even want solutions that will help you lower your cholesterol too.
Our Wellbeing & Health range offers solutions for vitality, stress-reduction, feminine health, skin health, better immune function and more.

Radiant abundance, all thanks to Mother Nature herself
Just as our customers are avid supporters of a more natural approach to health and wellbeing, we are equally committed to always harnessing the power of Mother Nature in every product that we offer in our range.
We ensure that each ingredient used is only obtained from ethically produced sources, and that no harm is done to nature in the production of our health and wellness products. Again, this is linked to our transparency that we provide for our customers: the knowledge that we are cognizant of every step of our production line, and being resilient in ensuring that no harmful impact comes to nature when we create our products.
This approach can further be seen in the packaging that we use: we always look for solutions that are recyclable and that will not add extra strain to landfills. We choose containers that are free from harmful chemicals and choose those that are phthalate-free and BPA-free. Being an eco-friendly provider means that we do not stop our "green" approach with just what goes into our products: our process looks at the full package, carefully analysing every aspect to give you that full experience of a natural approach, inspired by nature.